Dental Implants
Put Your Tooth Loss Behind You For Good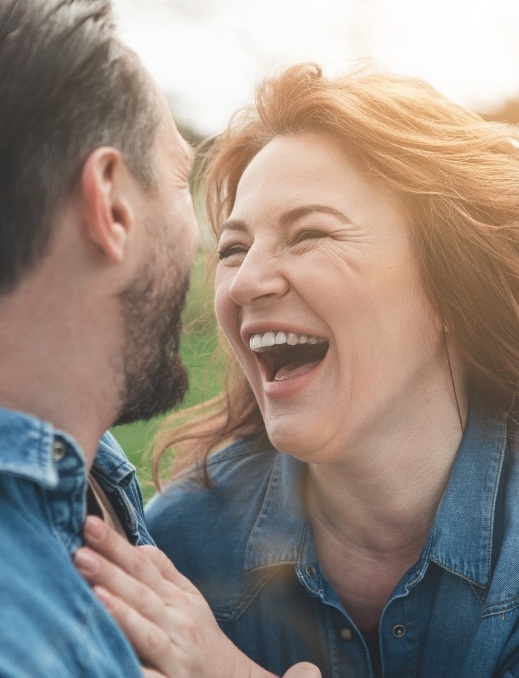 It's amazing how even a single missing tooth can affect pretty much every aspect of your life. An unwanted gap can make it more difficult to eat, speak, smile, and even feel comfortable in your own skin. Fortunately, dentistry has a lot of solutions for this problem, and dentists around the world agree that the best one is dental implants in our Bethel Park, PA periodontal office. In the South Hills of Pittsburgh, among fellow dentists, Dr. LoCastro is considered to be the leading expert when it comes to dental implant surgery, meaning he can help you reclaim your smile and confidence for a lifetime in the easiest, most convenient way possible.
Why Choose Robert J. LoCastro, DMD for Dental Implants?
Certified Periodontist with 30+ Years of Experience
We Give Dental Patients the Time & Attention They Deserve
Advanced Dental Imaging Technology for Accurate Treatment Planning
What are Dental Implants?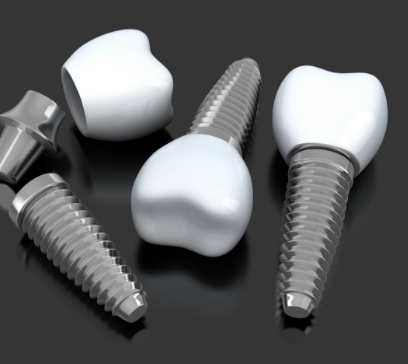 A dental implant is not a replacement tooth by itself, but rather a prosthetic tooth root made of titanium. This is placed into the jawbone, and just like a natural root, it bonds with the surrounding bone through a process called osseointegration. This makes the implant extremely strong and stable, and once it reaches this point, it can be topped with a crown, bridge, or denture to restore the visible portion of a tooth.
The 4 Step Dental Implant Process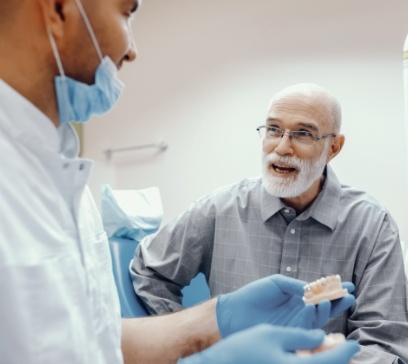 Consultation: LoCastro will talk to you about your dental goals, give you a detailed exam, and take several diagnostic images. He'll then discuss your replacement options and let you know if dental implants would be a good fit for your situation.
Surgery: Once you have chosen to get dental implants, Dr. LoCastro will schedule the surgery, in which your new root(s) will be placed into your jawbone using a minor procedure.
Healing: Over the course of the next few months, your mouth will heal, and your implants will meld with your jawbone.
Restoration: When you are fully recovered, your general dentist will attach your new teeth to your implants.
Benefits of Dental Implants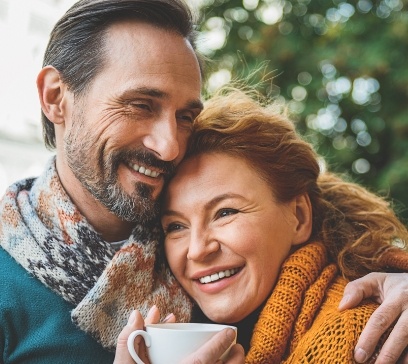 Security: Traditional replacements like removable bridges and dentures move around in the mouth, but dental implants can be trusted to stay rock-solid because they are held within bone just like real teeth.
Unmatched Aesthetics: Implanted teeth look extremely natural and can be customized to blend with the rest of your smile. To the observer, all they will see is a beautiful row of teeth.
Jaw Preservation: Dental implant roots stimulate the jaw from within, which prevents bone loss and enables it to support your facial muscles to help you look younger.
Durability: A well-made traditional bridge or denture may last about 7-10 years, while a dental implant can be trusted to endure for 30 years or more.
Who Dental Implants Can Help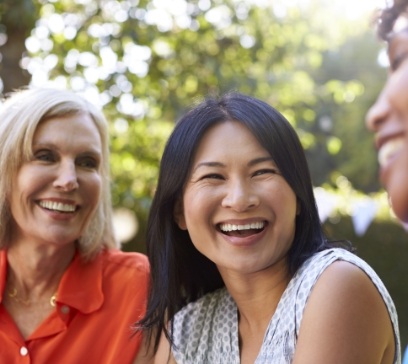 Any patient dealing with tooth loss, whether they are missing a single tooth, all of them, or a number in between, can benefit from implant dentistry. All a patient needs is enough healthy jawbone to hold the implants, stable overall health, and no preexisting oral health issues heading into surgery. If any of these is an issue, Dr. LoCastro can help you take care of them before discussing your treatment options.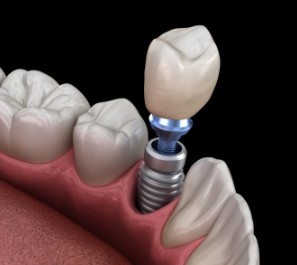 Missing One Tooth
A single implant can be placed between two healthy teeth and topped with a custom-made crown. Unlike a traditional bridge, this approach does NOT require the nearby teeth to be altered or shaved down at all.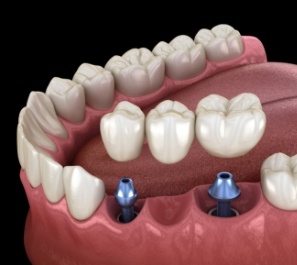 Missing Multiple Teeth
Regular bridges rely on the nearby remaining teeth for stability, but patients can choose to get a bridge that is attached to two dental implants located on either side of the prosthetic. This not only makes the new teeth more secure, but implant bridges have a more lifelike appearance as well.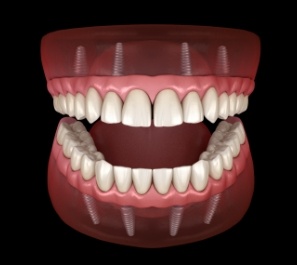 Missing All of Your Teeth
All it takes is just four to eight implants to anchor a full denture to someone's jaw. Implant dentures have a fit that far surpasses regular removable dentures, plus they help a patient recover almost all of their bite strength, meaning they can eat whatever they like with ease.
All-on-4 Implant Dentures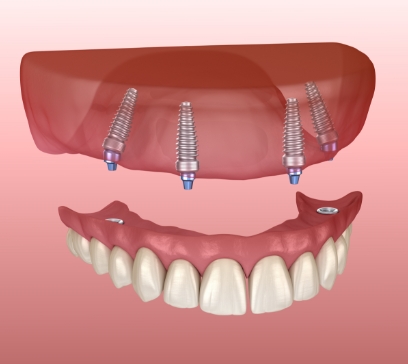 All-on-4 sounds too good to be true at first, but it's a procedure Dr. LoCastro has already used to literally help hundreds of patients. Using four strategically placed implants, he can help a patient recover a full row of teeth in a single appointment. The surgery and denture placement can be completed on the same day in a matter of hours, meaning a patient will walk out of the periodontal office with a fully renewed smile.
Hybridge Dental Implant Bridges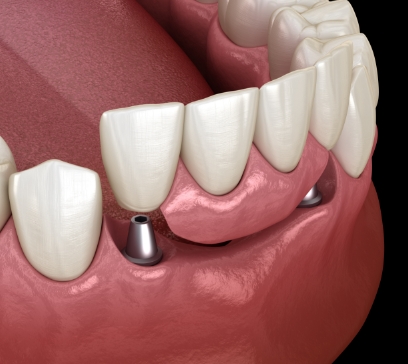 Hybridge dental implant bridges can be used to replace all of the teeth on the top or bottom at the same time. Because the prosthetic is fixed, a patient doesn't have to worry about it falling out or take any extra time cleaning. Hybridge implant bridges are specially designed to look completely natural and made of the strongest and longest-lasting materials so that once they are in place, a patient doesn't have to worry about their teeth ever again.
Understanding the Cost of Dental Implants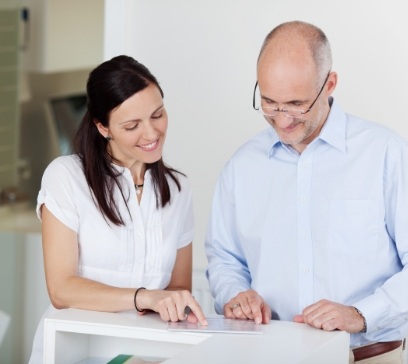 Every dental implant procedure needs to be personalized to deliver the highest-quality result, and because of this, the treatment can vary in cost from patient to patient. Factors such as how many implants are needed, where they are located in the mouth, and what type of restoration they will support can influence the final price. We will discuss all of these factors and give you a cost breakdown at your initial consultation, plus we can help you navigate your insurance and financing options to help make everything easily affordable.
Dental Implant Technology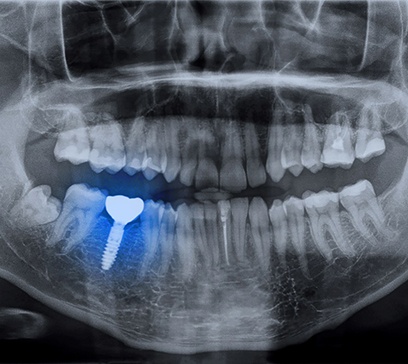 Dental implants have the potential to look, feel, and act like natural teeth for decades. To maximize the long-term success of these state-of-the-art restorations, Dr. LoCastro uses the latest dental implant technology available. This advanced equipment helps precisely plan out your dental implant treatment for the best possible results and minimizes any chances of unforeseen surprises along the way. We'll be happy to teach you more about our advanced dental implant technology during your consultation, or you can keep reading below.
3D Cone Beam Imaging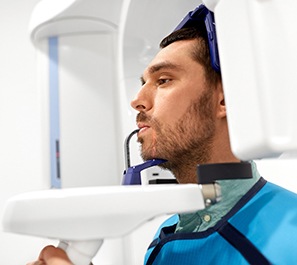 CBCT (cone beam computed tomography) scanning is essential when it comes to dental implant treatment. Cone beam imaging is like an X-ray in that it can take images of the inside of your mouth beneath the gumline. The machine itself will rotate around your head, taking anywhere from 150-200 pictures from various angles. What truly makes cone beam imaging special is what happens next: a special software is used to combine these pictures into a digital 3D model of your mouth.
This 3D model shows us much more than a traditional X-ray can. While X-rays show the jawbone and roots of the teeth hidden beneath the gums, a CBCT scan shows them in greater detail as well as other important dental structures like nerve paths and blood vessels. A clear, detailed map of your mouth gives us a comprehensive understanding of your oral structures and allows us to find the best locations for your dental implants.
Thanks to 3D cone beam imaging, patients getting dental implants can enjoy:
Peace-of-mind and a confident treatment plan: CBCT scans are extremely high quality and will help Dr. LoCastro anticipate and plan for any potential obstacles or difficulties that would have otherwise gone unnoticed until the surgery.
High precision and success: With the help of a detailed scan, Dr. LoCastro can pinpoint exactly the best location for your dental implants to maximize their chances for success.
Quick, safe, and comfortable scan: Cone beam imaging is completely painless, noninvasive, and no radiation remains in your body afterwards. The scan itself only takes a few moments.
Guided Dental Implant Surgery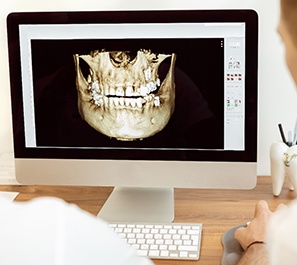 Cone beam imaging can even be used to directly guide the dental implant surgery itself. We can virtually perform the surgery on the 3D model and fine-tune it until we achieve optimal placement. From there, a physical model or "guide" is created that we can use on the day of your surgery. This information is invaluable for ensuring precise dental implant placement, especially if there are many missing teeth and therefore far fewer landmarks to indicate where a dental implant should go.
On the day of your surgery, we'll place the computer-generated guide into your mouth and use it to place your dental implants into the precisely pre-planned areas of your jawbone. Thanks to the extra precision guided dental implant surgery offers, patients typically experience less pain, swelling, bruising, and discomfort afterwards and enjoy a faster healing period in most cases.
Dental Implant Failure & Salvage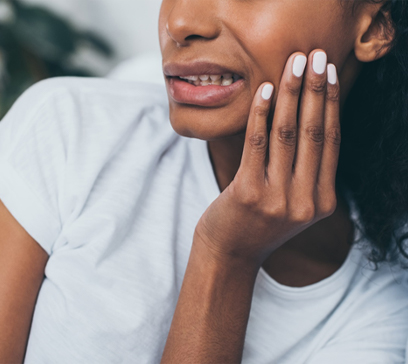 Dental implant placement has an impressive success rate of around 98%, making it highly unlikely that your prosthetics will fail. However, dental implant failure can still happen. Should you notice pain, looseness, or swelling around your dental implant, you should call our office right away so we can evaluate it. If your dental implant is failing, we may be able to save it depending on the severity of your case. Dr. LoCastro will need to see you right away for an examination to determine if you are in need of dental implant salvage. If you are, he will walk you through the process as well as your options during your appointment. In the meantime, read on to learn more about dental implant salvage in Bethel Park.
Dental Implant FAQs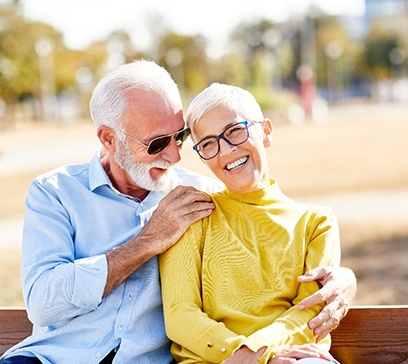 While you may know more now than you did before about dental implants in Bethel Park, there is a good chance you still have many questions. Dr. LoCastro and his team want you to have all the information you need to make a well-informed, confident decision when choosing how to replace your missing teeth. This is why you will find a list of common questions asked by our patients below. If you do not see yours listed, please do not hesitate to contact our office and schedule an appointment.
Am I too young to get dental implants?
The truth is that most adults, no matter the age, can receive dental implants. In most cases, dentists will never recommend this type of tooth replacement for an individual under the age of 18 simply because their jaw and facial structure is not fully formed. There must be enough jawbone to support your implants and customized restoration, so if this area has yet to fully form, it could cause complications later on. However, if you are of qualifying age and in good oral and overall health, there is a good chance you will be eligible for treatment.
Will people be able to tell that I have dental implants?
One of the greatest benefits of dental implants is that they look and feel completely natural. The materials used to mimic the translucent appearance of regular tooth enamel, allowing them to blend in seamlessly with the rest of your smile. Because they are surgically placed into the jawbone, the complete tooth structure will look just like your other teeth, making it virtually impossible for anyone to tell the difference between your real and artificial teeth.
What should I do if I can't afford dental implants?
While it is true that most dental insurance companies do not offer coverage for dental implants, it doesn't mean they won't cover other aspects of your treatment. Depending on your plan, you may be able to receive coverage for your consultation, restoration, and any preliminary treatments you might need. Dr. LoCastro believes in making dental care affordable for all patients, which is why he is pleased to offer low and no interest financing through our periodontal office. With plans designed for every budget, you can break up the cost of your treatment into manageable monthly installments, making it easier to attain the smile of your dreams without emptying your wallet.