Implant Dentures
Greater Stability and Functionality for a Healthier Smile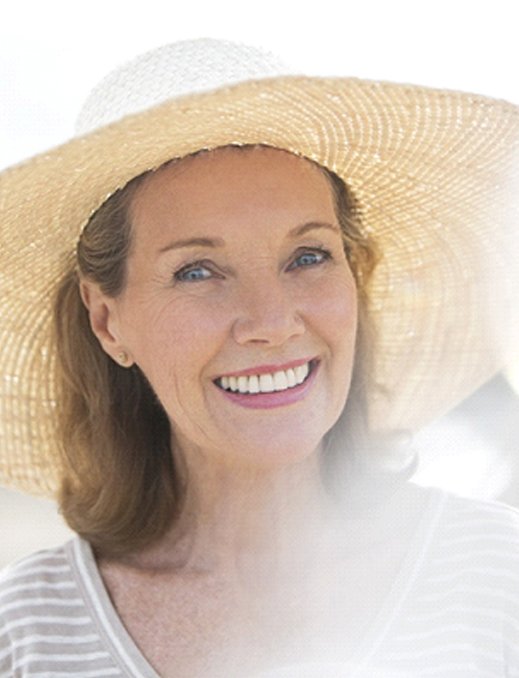 It's natural to weigh your options when determining how you plan to replace your missing teeth. Yes, dentures are an effective way to recapture your smile, but they often leave much to be desired because of their lack of stability and high maintenance. Fortunately, there is an alternative solution that offers exceptional benefits that cannot be matched by any other tooth replacement solution – implant dentures in Bethel Park. Dr. LoCastro and his team will work with you to determine if you are a qualified candidate before preparing you to receive structurally sound, fully functional prosthetics. Not only will you notice a change in your facial appearance, but your oral health with improve, and you'll be pleased with your ability to eat, speak, and smile with confidence. Contact us today to schedule an appointment with Dr. LoCastro to discuss your eligibility.
Why Choose Dr. Robert LoCastro for Implant Dentures?
Trusted Periodontist with Three Decades of Experience
Modern Dental Technology Used for Accurate Results
Dental Insurance Welcome and Financing Available
What Are Implant Dentures?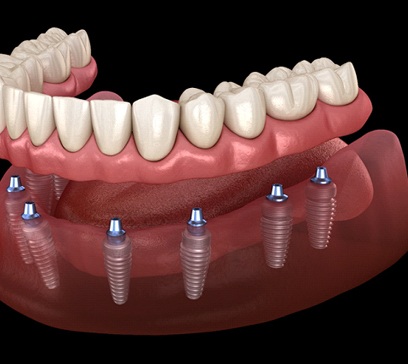 Implant dentures offer far more advantages than traditional prosthetics. Instead of resorting to a prosthetic that sits on top of your gums and requires dental adhesive to remain firmly in place, you will undergo minor oral surgery to have your implant posts surgically placed into your jawbone. After months of recovery, these "roots" will be fused with the bone and surrounding tissues, creating a solid and firm foundation for your customized denture. As a result, you'll enjoy greater stability and functionality when eating, speaking, and smiling.
It is estimated that more than 3 million people are already living with dental implants and the number is increasing by 500,000 each year. As a skilled and trusted, certified periodontist with 30 years of experience, Dr. LoCastro can easily place between 4 and 6 dental implants into the designated areas of your arch, ensuring your denture looks and feels completely natural once secured.
There are two types of dentures to choose from, which you and your general dentist will discuss during your initial consultation:
Fixed/Permanent Implant Dentures
Known as a hybrid prosthetic, this type of denture is fixed to your implants, which means only your implant dentist in Bethel Park can remove it. Requiring between 4 and 6 implant posts, the prosthetic will be secured into place but will allow for easy maintenance.
Removable Implant Dentures
Also known as an overdenture, a removable denture requires only 2-5 implant posts, and you may not need as much jawbone density as you would if you were to receive a fixed denture. You will be able to remove your prosthetic and clean it thoroughly before going to bed each night. Most removable dentures are held in place using a ball-retained or bar-retained device.
The Implant Denture Process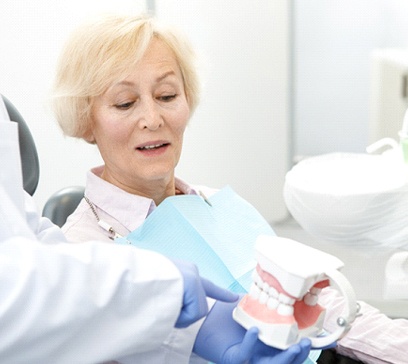 Every patient who requires dental implants in Bethel Park may indeed experience a slight difference in their treatment plan; however, the same general steps are followed when receiving implant dentures:
You will schedule an initial consultation with your general dentist. During this appointment, you will learn if you need preliminary treatments (i.e., bone grafting, tooth extraction) before receiving your implant dentures.
You will arrive at Dr. LoCastro's office to undergo your dental implant surgery, which will consist of making multiple small incisions in your gums to insert and position your implants before the gum tissue is closed.
You will spend the next 3-6 months recovering at home while osseointegration occurs, allowing the implants to fuse with your jawbone and surrounding tissues.
You will have your metal abutments put into place and finally receive your customized denture.
Am I a Candidate for Implant Dentures?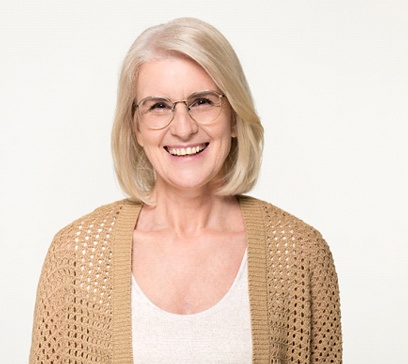 Whether you believe you are a candidate for implant dentures or not, it is best to schedule an appointment with your general dentist. During your consultation, they will examine your oral cavity and facial structures checking for the following:
The amount of jawbone density, as this will determine if you need a bone graft or removable denture
The status of your oral health and if you show signs of gum disease or tooth decay that requires tooth extraction or periodontal therapy
The status of your overall health and if you are healthy enough to undergo minor oral surgery
It's important to remember that even if you do not think you'll qualify, your general dentist can help you take the appropriate steps toward achieving a beautiful, healthy, and complete smile with dental implants. Even if you require preliminary treatments, remember that these procedures will ensure your future prosthetics have the greatest chance of lasting a lifetime.
Benefits of Combining Dentures & Dental Implants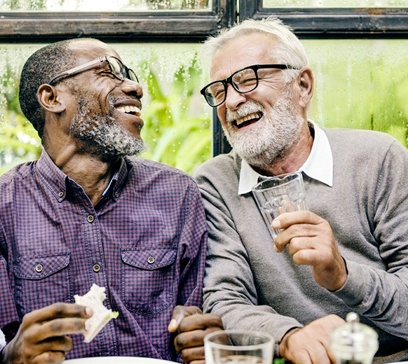 When comparing implant dentures to other forms of tooth replacement, you simply cannot beat the benefits you'll receive with these permanent prosthetics, some of which include:
A smile that can last decades or even a lifetime with proper maintenance.
The ability to eat your favorite foods without worrying about slippage or your prosthetic falling out.
Greater bite force and chewing power.
The chance to embrace a better quality of life and once again enjoy socializing with family, friends, and colleagues.
Improved appearance and boosted confidence because of the natural look and feel of your customized dentures and implant posts.
Better oral health because your implants will continue to stimulate your jawbone and create a fuller, more youthful appearance while reducing your risk for facial collapse.
The chance for a longer life because replacing your missing teeth can help to lower your risk of systemic issues often caused by tooth loss.